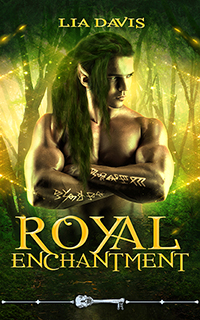 Expected Publication:
June 15, 2016
Ava Green has made a name for herself in the real estate world by reconditioning old, historical homes with her partner and friend Jeff. But her newest project, a three-story Victorian in the foothills of the Blue Ridge Mountains, promises to be her biggest moneymaker yet. And one she's undertaking on her own. During her first walk-through of the house, however, she discovers a locked door, and a skeleton key that seems to appear out of nowhere. Unlocking the door, she is transported to a mystical world of fae and mythickal creatures and meets the King of the Morna. The sovereign of the Dark Elves.
King Finn Sylcan has searched for the one who can bring the magick back to his world, Edra, for eons. An old prophecy told of a female of both Dark and Light elven descent, a hybrid both Calim and Morna. It is said she is the only one who can repair the damage the war between the Dark and Light kingdoms caused. But after searching for so long, Finn never dreamed that she'd just show up outside his palace walls. Or that she'd be his mate.
I received a free digital copy of this book from NetGalley in exchange for an honest review.
I thought the teaser sounded so good and interesting but it was a total disappointment.
I just want to make a quick summary of why this book did not hook me up as I thought I would.
The PLOT.
For me everything in this book comes into a rush. There is a lack of world-building. Dull story, and a very bland and easy to predict kind of characters. As much as wanted to immerse myself into the world of Elves, I just can't grasp anything that was happening in this book.
The characters.
As much as I want to connect with the characters. I just can't. The characters are all so predictable. There is an instant connection with the Ava and Finn and I just don't like since the beginning of the book. Inta-love... Huh! Totally not my type. everything in this book feels rushed for me. There are no thorough description of the characters personality. It was like all information are thrown at once, that I started to have a headache of what was really happening.
Overall, this book could have been better only if the Author had thought more of the things that will make the story interesting.